Posts tagged "Model"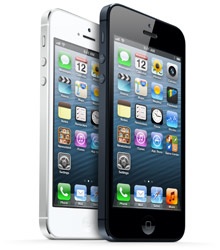 The iPhone 5 that will be sold through T-Mobile is a modified version of the A1428 iPhone 5 that is currently produced for AT&T's network, among others. The new version of the A1428 has been tweaked on the hardware side by Apple to support Advanced Wireless Services (AWS) bands for T-Mobile's network.

According to an Apple representative that spoke to Engadget, existing A1428 phones cannot be updated to add AWS support.


Apple's enabling support of the AWS bands from the factory on the new guy – and sadly, Apple affirmed to us that it's not something that can be enabled via a simple software update for A1428 iPhone units already in circulation. To say that another way, existing iPhone 5 owners on AT&T cannot simply apply a software patch to have AWS support added. You'll need to buy a new phone next month.
On April 12, which is the date that T-Mobile's iPhone 5 launches, Apple will be selling the new version of the A1428 iPhone. This phone will be available unlocked at full retail price through Apple, and will function with both the T-Mobile and AT&T networks, as well as on many LTE bands around the world.

Apple plans to phase out the existing A1428 hardware in favor of the new version, which means future phones from AT&T might also ship with AWS support included. While the current A1428 phone works with T-Mobile's network, it is notably slower than the modified version.

Apple's iPhone 5 with AWS included will be available at 12:01 a.m. on April 12 from 24-hour locations, and phones ordered from Apple's Online Store can be unlocked (after full payment) through T-Mobile.

MacRumors: Mac News and Rumors – All Stories
---
Would you consider buying 128 GB iPhone model? If the 64GB is not enough, the next-generation devices could come in handy for you that will carry a 128 GB storage. An RT from hacker iH8Snow from @iNeal via iDownloadblog gave us a hint that a double storage in the future is possible due to a new system partition key size found in the BuildManifest of iOS 6.1 which is the latest firmware distributed by Apple to the developers.
We should be seeing 128GB iDevices soon. iOS 6.1 beta 5 has 128G system partition key in BuildManifest.
The unboxing of iOS 6.1 BuildManifest opened the door to the rumor mill that 128 GB storage model could really be possible in the upcoming models.
According to iMore,
Apple has historically increased storage sizes as a product differentiator, and when the cost of the required NAND flash storage made it cost effective to do so. Going from 64GB to 128GB and keeping the same size device means double density flash.
While the BuildManifest showed the partition key size of a possible 128 GB storage, this does not necessarily indicate that Apple is going to roll out an iPhone 5S with built-in 128 GB storage. But the presence of such partition shows that the company is preparing for the possibility. However, this will remain a rumor and can only be confirmed once the California-based company calls for the press.
The additional storage could affect the price points of the next models. Unless Apple provides the same price points regardless of the storage capacity or get rid of the 16GB and offer 32GB, 64GB and 128GB as baseline.
So, going in reverse order, component prices for high density flash would have to be cheap enough for Apple to maintain current prices and margins. And, Apple would have to be in the right place in their product cycle that it's a feature and not a throw-away.
Is it time to upgrade? Could this be possible? Are you willing to shell out a few bucks for an upsize storage?
This article, Next Generation iPad and iPhone May Feature 128GB Model, was originally published at simonblog.com.

The iPhone and iPad Blog by Simon
---
iPhone 5 refurbished model sold for by AT&T
The 16GB version of the iPhone 5 is available in black or white on AT&T's website for $ 99. The 32GB model is $ 199 and the 64GB version costs $ 299. That is $ 100 less than what Apple and other carriers are offering for a new iPhone 5. Refurbished iPhone …
Read more on Inrumor


---
Fit for iphone 5 case
Protects your phone from knocks and drops
Allows access to all ports and buttons
Protect Your New iPhone 5 With Style
With free screen protector value .99
Protect and personalize your Apple iPhone 5 6th Generation cell phone with this Hard Plastic 2-Piece (Snap On) Transparent Shield Protector Cover Case. This accessory provides the maximum protection by preventing unnecessary scratches. Beside its protection, it's a perfect fit to make the phone looks slim and trendy.
Hard Plastic 2-Piece (Snap On) Tranparent Design Cover Case was reinforced to the front edges, sides and back of the phone to extend the durability of this case. This phone shie
List Price: $ 29.99
Price:
MAC LIFE MAGAZINE iPHONE 4S STEVE JOBS FREE iOS GAME OLD MAC USES REVIEWS
Related Iphone 4 Reviews Products
---
This player is the iPod touch, not the Apple iPhone; iPhone software is not included with this iPod touch but is available for download at apple.com
16 GB capacity for 3,500 songs, 10,000 photos, or 20 hours of video
Up to 36 hours of music playback or 6 hours of video playback when fully charged
3.5-inch widescreen multi-touch display with 480-by-320-pixel resolution
Supported audio formats: AAC, Protected AAC, MP3, MP3 VBR, Audible, Apple Lossless, AIFF, and WAV; supported video formats: H.264, MPEG-4; supported image file types: JPEG, BMP, GIF, TIFF, PSD (Mac only), and PNG
The iPod touch has always been an amazing iPod. And with its groundbreaking technologies including a Multi-Touch screen, the accelerometer, and 3D graphics and access to hundreds of games, iPod touch puts an amazing gaming experience in the palm of your hand. It comes in 8 GB, 16 GB, and 32 GB models with new volume controls and a built-in speaker. Play hours of music. Create a Genius Playlist of songs that go great together. Watch a movie. Surf the web. View rich HTML email. Find your location
List Price: $ 359.99
Price: $ 185.00
Apple Ipod Touch 5Th Generation Black (32Gb) Brand New Hd Pictures
8 Pin USB Flat Noodle Data Cable Adapter Charger Sync for iPhone 5 Touch iPod 7
---
ipod eBay auctions you should keep an eye on:
Apple iPod touch 4th Generation White (32 GB)
32GB BLACK iPod Touch 5th Generation MD723LL/A; FACTORY SEALED
---
Synthetic Leather with Stitches to protect your valuable IPAD 2
Synthetic Leather material is tear, rip, and damage resistant for a long resilisant lifetime
Access all of the iPad 2′s features while the case is still on.
Stand can be adjustable to 2 different angles for desired viewing pleasure
Made of high quality eco-friendly synthetic leather. Provides superior protection from scratches and dents. Soft suede interior keeps your iPad screen clean. Direct access to all device ports and buttons. Unique design allows the iPad to stand horizontally for optimal viewing. Additional low angle stand position for typing or viewing. Supports Smart Function: Automatically wakes and sleeps your iPad. No influence on signal reception. Easy to install and remove. Color: Black.
List Price: $ 17.99
Price: $ 0.20
Apple iPad 4th Generation with Retina Display 16GB, Wi-Fi 9.7in - Black...
---
9.7 Retina Display; 2048 x 1536 Resolution
Apple iOS 5; Dual-Core A5X Chip with Quad-Core Graphics
5 Megapixel iSight Camera; 1080p Video Recording
Wi-Fi (802.11a/b/g/n); 32 GB Capacity
Up to 10 Hours of Battery Life; 1.44 lbs
Apple iPad MD329LL/A (32GB, Wi-Fi, White) NEWEST MODEL
List Price: $ 599.00
Price: $ 526.99
New Apple iPad 3 3rd Generation Tablet 64GB Wi-Fi 9.7in Retina Display - Black
Apple iPad 2 16GB, Wi-Fi + 3G (Verizon), 9.7in - Black (MC755LL/A) Mint
---
9.7 Retina Display; 2048 x 1536 Resolution
Apple iOS 5; Dual-Core A5X Chip with Quad-Core Graphics
5 Megapixel iSight Camera; 1080p Video Recording
Wi-Fi (802.11a/b/g/n); 32 GB Capacity
Up to 10 Hours of Battery Life; 1.44 lbs
Apple iPad MC706LL/A (32GB, Wi-Fi, Black) NEWEST MODEL
List Price: $ 599.00
Price: $ 519.00
Apple iPad 16GB WiFi Black 1st Gen-MB292LL/A-Good Condition
Apple iPad 3rd Generation 32GB, Wi-Fi + 4G (AT&T), 9.7in - Black
More Ipad Products
---